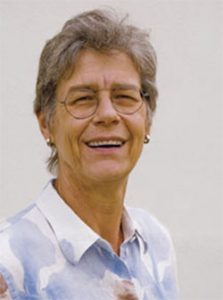 Drawing on 43 years of coastal leadership, The Coastal Society proudly announces its "Margaret A. Davidson Coastal Career Development Program." This Program continues TCS's long-term emphasis on students, recent graduates, and coastal professionals and was inspired by the late Margaret A. Davidson, an icon who mentored and befriended many of today's coastal leaders. As part of the program, TCS will honor Margaret's legacy through a series of career development workshops to benefit early- and mid-career professionals and the next generation of coastal practitioners.
The workshop series launched on December 13, 2018, in Long Beach, California, in association with the Restore America's Estuaries – Coastal States Organization Habitat Summit. The Long Beach workshop featured a morning of keynote talks on career options, employment prospects, and important career opportunities in southern California and around the nation. The afternoon offered a series of smaller group discussions about various skills needed to succeed including resume development, interview tips, how to successfully engage with a mentor, networking, and publishing in a peer-reviewed journal. Future workshops will follow a similar agenda highlighting local speakers and job opportunities from the region.
Upcoming MAD workshops:
November 4th, 2020 – Virtual Workshop
In honor of Margaret's life-long commitment to the coasts and those charged with protecting them, these workshops will feature a strong mentoring component. Registrants will first hear inspiring stories about successful mentor-mentee accomplishments and then have the opportunity to engage with mentors at the workshop through "flash" mentoring modules. Then registrants will receive advice on successful writing tips and how to navigate the publication process in a peer-reviewed journal. TCS is working with Taylor and Francis, the publishers of the official TCS journal – Coastal Management, to develop materials to help coastal professionals publish the results of their academic and professional work.
In an effort to help TCS gauge interest, identify locations, and shape the workshop offerings, we are requesting interested attendees fill out this survey: https://survey.az1.qualtrics.com/jfe/form/SV_br5CU6IFEbhmNTv. Additionally, TCS is seeking coastal professionals interested in serving as a mentor/presenter at workshops. If interested, please contact the TCS Office at: admin@thecoastalsociety.org
MAD Workshop Archive: 
December 8, 2018  Long Beach, CA, in conjunction with Restore America's Estuaries and the Coastal States Organization
January 10, 2019  Washington, DC, in conjunction with the National Council for Science and the Environment conference
April 4, 2019  Woodbridge, VA, in conjunction with the Atlantic Estuarine Research Society Spring Meeting
June 3, 2019  Washington, DC, in conjunction with Capitol Hills Ocean Week (CHOW)
June 10, 2019  Brockport, NY, in conjunction with the International Association for Great Lakes Research (IAGLR) Annual Conference
November 18, 2019  Wilmington, NC, in partnership with the University of North Carolina – Wilmington
February 7, 2020  Charleston, SC
February 27, 2020  Durham, NC
March 26, 2020 West Long Branch, NJ (cancelled)
June 10, 2020 Virtual Workshop
September 24, 2020 – Virtual Workshop
Check out another amazing opportunity for graduate students through NOAA's Office for Coastal Management and the National Estuarine Research Reserve System, the
Margaret A. Davidson Fellowship Program
.