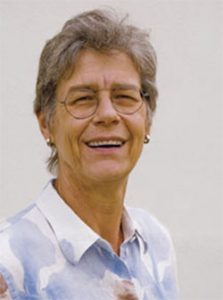 Drawing on 45 years of coastal leadership, The Coastal Society proudly launched its "Margaret A. Davidson Coastal Career Development Program" in 2018. This Program continues TCS's long-term emphasis on students, recent graduates, and coastal professionals and was inspired by the late Margaret A. Davidson, an icon who mentored and befriended many of today's coastal leaders. As a primary part of the MAD program, TCS will honor Margaret's legacy through a series of career development workshops to benefit early- and mid-career professionals and the next generation of coastal practitioners.
The first workshop in this series was December 13, 2018, in Long Beach, California, in association with the Restore America's Estuaries – Coastal States Organization Habitat Summit. The Long Beach workshop featured a morning of keynote talks on career options, employment prospects, and important career opportunities in California and around the nation. The afternoon offered a series of smaller group discussions about various skills needed to succeed including resume development, interview tips, how to successfully engage with a mentor, and networking. Subsequent in-person workshops followed a similar agenda, condensed into half-day events on a virtual platform during the COVID pandemic, to provide the latest information on coastal careers.
In honor of Margaret's life-long commitment to the coasts and those charged with protecting them, most of these workshops feature a strong mentoring component. Registrants will first hear inspiring stories about successful mentor-mentee accomplishments and then have the opportunity to engage with potential mentors during each workshop. After the workshop, participants are paired with a workshop speaker of their choice for a separate conversation.
In an effort to help TCS gauge interest, identify locations, and shape the workshop offerings, we are requesting interested attendees fill out this survey: https://survey.az1.qualtrics.com/jfe/form/SV_br5CU6IFEbhmNTv. Additionally, TCS is seeking coastal professionals interested in serving as a mentor/presenter at workshops. If interested, please contact the TCS Office at: admin@thecoastalsociety.org
Margaret A. Davidson Coastal Career Workshop, June 6, 2022 – Virtual
Date/Time: Monday, June 6, 2022, 1:00 – 4:00 PM EDT
Interested in kick-starting your coastal or ocean career? TCS's virtual workshop will offer you key tips and advice straight from the professionals!
Venue: This workshop is a virtual Zoom event.
Registration: Registration for the MAD Coastal Career Development Workshop is $15 for The Coastal Society members and $20 for non-members. Once registered, you will receive Zoom information and related materials. Register using the EventBrite link, below.
Overview: As part of the Margaret A. Davidson Coastal Career Development Program (MAD Program), The Coastal Society (TCS) will host this half-day virtual workshop in conjunction with Capitol Hill Ocean Week (CHOW). The MAD Program is designed to provide valuable skills and information to the next generation of coastal practitioners, particularly college students, recent graduates, and early-career coastal professionals. 
Program: This event will feature personal insights from seasoned professionals on pathways to coastal-related career options in the academic, governmental, private, and non-profit sectors. We'll also focus on honing skills and sharing tools to boost your career – job searches, federal positions, mentors, virtual interviews, networking, and more. 
For questions about the workshop program, contact Tom Bigford at tebigford@gmail.com, Jeff Flood at jflood@udel.edu or Alexis Maxwell at alexis.maxwell@noaa.gov. 
We thank our primary partners, the National Marine Sanctuary Foundation and Capitol Hill Ocean Week.
MAD Workshop Archive: 
Click on the bolded date below for information on past workshops.
December 8, 2018 – Long Beach, CA, in conjunction with Restore America's Estuaries and the Coastal States Organization
January 10, 2019 – Washington, DC, in conjunction with the National Council for Science and the Environment conference
April 4, 2019 – Woodbridge, VA, in conjunction with the Atlantic Estuarine Research Society Spring Meeting
June 3, 2019 – Washington, DC, in conjunction with Capitol Hills Ocean Week (CHOW)
June 10, 2019 – Brockport, NY, in conjunction with the International Association for Great Lakes Research (IAGLR) Annual Conference
November 18, 2019 – Wilmington, NC, in partnership with the University of North Carolina – Wilmington
February 7, 2020 – Charleston, SC
February 27, 2020 – Durham, NC, in partnership with the Duke University Nicholas School of the Environment
March 26, 2020 – West Long Branch, NJ (cancelled)
June 10, 2020 – Virtual Workshop
September 24, 2020 – Virtual Workshop
November 4th, 2020 – Virtual Workshop
June 29 & 30, 2021 – Virtual Workshop
November 16, 2021 – East Lansing, MI in partnership with the Michigan State University Department of Fish and Wildlife (hybrid)
Check out another amazing opportunity for graduate students through NOAA's Office for Coastal Management and the National Estuarine Research Reserve System, the Margaret A. Davidson Fellowship Program.